News
March 30, 2010 | Add a Comment
Finding inspiration by seeing art in a book, watching a video, camping out here on Sketch Theatre (or any of the other awesome art sites and blogs available) is great, but if you don't get out once in a while and let the breeze hit you in the face so you can stand before an admirable artists' blood, sweat, agony, joy and tears … well then you're not sharing in the full experience. Here are my picks!
🙂 L
Los Angeles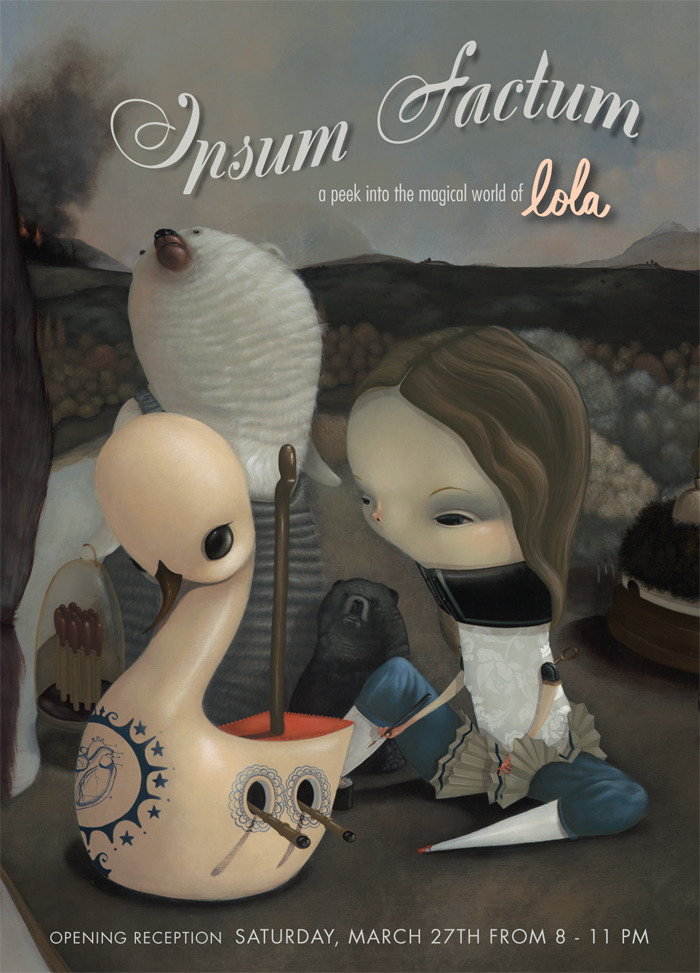 Lola "Ipsum Factum"
link to the preview is here
on view to the public, Saturday, March 27th through April 14th 2010
Corey Helford Gallery
8522 Washington Blvd.
Culver City, CA 90232
310 287 2340
www.coreyhelfordgallery.com
www.lolafineart.com
Cannibal Flower
Sat, March 27th 9PM-1AM ($8 at the door)
2808 Elm Street in Los Angeles
Huge Group Art Show featuring Asylm, JoKa, Michael Pukac, Nicole Bruckman, Paul Torres, Cate Rangel, Elizabeth Caffey, Jimmy Bell, Kelly Berg, Ted Von Heiland, Anna Chung, Crystal Sylver, Atiba Andrews, Prince Parise, Steven Lopez, Gustavo Rimada, Donna Letterese, Alex Chiu, Ben Brough, Paul Garcia, Peter Adamyan, Kelly Thompson, Dennis Pomales, Timimonster, Jeffrey Vincent Parise, Yuki Miyazaki, David Cooley, Snow Mack, Eban Lehrer,Brian Smith, Nate Seubert, John P. Wales, Sylvia Lizzaraga, Nicolas Shake, Richard Arthur, Eric Staniford, Chrystal Walker, John Culqui, L. Croskey, Jeffrey Page, Carlos Ulloa, MEQ, Michele Waterman, Shahid Brown, Booleep, Art Weeks, Brendan Tierney, Ubaldo Miranda Villa, Max Kauffman, Brian Robertson, Hilary Bond, Dion Macellari, Louie Metz, Alicia Papanek, Sam Graham, Marie Rim, George Saavedra, Ahh'd Art, Yvette Marie Ulrich, Kelsey Livingston, Max Kauffman, Kristy Sandoval, Clairfoster Brown, Adrianne Walker, Alex Gonzalez, Sarah Ramirez, Genie Melisande, Terri Berman, Mykal Brutal, Annie Liu, Heidi Spring, Lynn Marie Greaves, Anna Silvey, Eric Eyeball, Dan Joyce, Adam Smithmada, Wen Alarcon, Liane Shih, Jennifer Gonzalez AKA JenGi Creations, Kimberly Kite, Kevin T. Williams, Amy Bernays, Laura Brody, Lefty Joe, Rie Nasu, Aorta VI – Jared Blunk, Pj Kneisel, Sam Graham, and more with live painting from John Culqui and Steven Lopez and caricatures done by Lefty Joe with featured artist N.S. David and live music from Magna and Beats Curated by Patrick Icon from C.A.V.E. Gallery, X-Point, and Mr. NumberOnederful with a Special Rope Bondage performance from TomFoolery www.cannibalflower.com
New York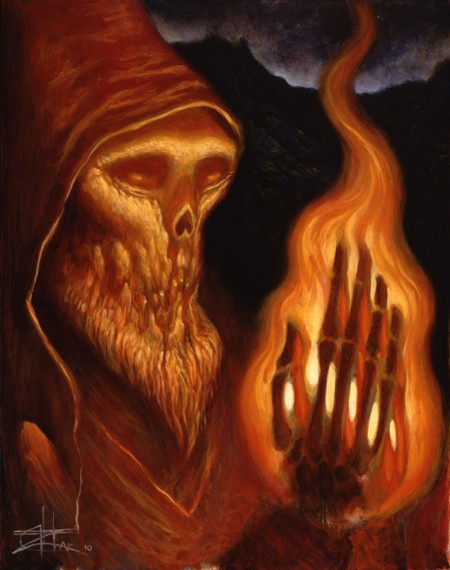 Chet Zar – "Endarkenment"
limk to the preview is here
March 6th through March 28th, 2010

Solo exhibitions of new work for both Chet Zar and Ewelina Ferruso open on Saturday, April 10th, 7-11pm at Last Rites Gallery, 511 W. 33rd Street, between 10th & 11th Avenues (3 blocks from Penn Station), 3rd floor, New York, NY 10001.
www.lastritesgallery.com.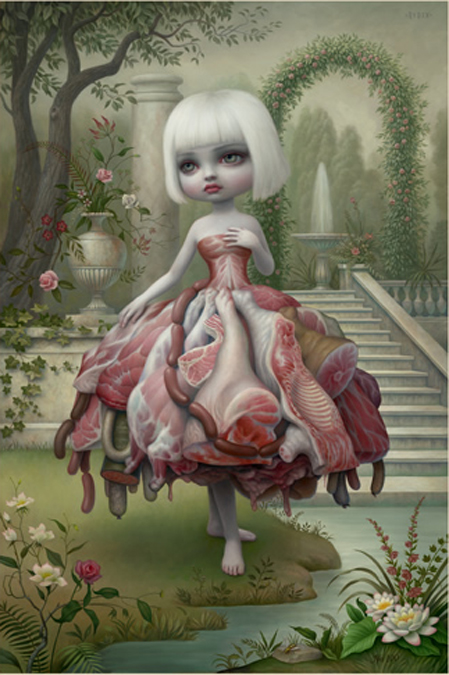 Mark Ryden "The Gay 90's" Old Tyme Art Show"
April 29th through June 5th, 2010
California based painter Mark Ryden has a new show opening in New York City April 29th. "The Gay 90's" will be open to the public at the Paul Kasmin Gallery in Chelsea through June 5th. Ryden combines fairy-tale like settings with doses of the grotesque, such as raw meat and fetuses, with references to classical traditions like Rococo décor and the notion of the Venus figure. This is his first solo show since his "Snow Yak" show in Tokyo.
preview link is here
Paul Kasmin Gallery
293 Tenth Ave.
New York, NY 10001
Phone: 212.563.4474
www.paulkasmingallery.com
San Francisco
LeBasse Projects 'Showcase: SF' – A four-day group exhibition in San Francisco
For a special four day only exhibition, Los Angeles based contemporary galleryLeBasse Projects expands its horizons to the Bay Area. LeBasse Projects' temporary exhibition offersSan Francisco a collection of work by some of the gallery's best and brightest talent. The second'Showcase Series' exhibition presents the gallery's penchant for innovative and diverse artistsincluding:
Seonna Hong, Herakut, Yoskay Yamamoto, Edwin Ushiro, Alexandros Vasmoulakis, Andrew Hem,Melissa Haslam and Nate Frizzell.
Artists Reception: Friday, April 2nd, 7-11pm – Thursday, April 1st: 7-10pm — Gen Art Collectors Circle Private Event – Friday, April 2nd: 7-10pm — Artist Reception and Opening – Saturday, April 3rd: 7-10pm — MYX TV Hosted Reception
The Exhibition will be open to the public Thursday to Sunday, 12-6pm daily.
LeBasse Projects SF
1746 Post St. 3rd Fl.
San Francisco, CA 94115
(New People Bldg. in Japantown)
Please contact the gallery at 310.558.0200
or contact@lebasseprojects.com for general questions.