Rick O'Brien
Rick is a visionary creator whose disciplines span paint, clay and film. An accomplished designer, painter and property maker, he is one of Hollywood's one-man art departments.
Pooling this menagerie of creative mediums has infused Rick's fine art to unique levels; allowing the artist to explore humanity fearlessly.
An excerpt from Counterweight, The Art and Concepts of Rick O'Brien: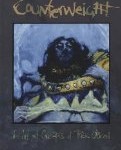 " It is the knowledge and understanding that behind every movement, decision, idea, and aesthetic, there are forces at work constantly shaping, adjusting and defining them. It is acknowledging that truth lies beyond the surface, and a reminder that has helped clarify in my own mind a philosophy that continues to dominate my work."
Find more of Rick's work here.
Videos