NEWS
March 22, 2012 | Add a Comment
'Juxtapoz Turns 18' At Copro Gallery (Los Angeles)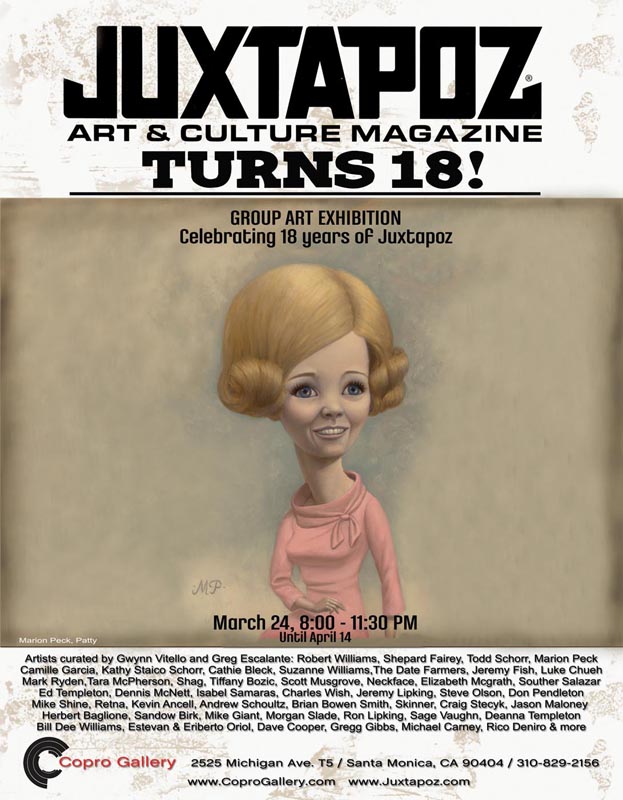 In celebration of Juxtapoz's 18th anniversary, Copro Gallery in Santa Monica is hosting a group exhibition of the publication's past, present and future with "Juxtapoz Turns 18." Artist Robert Williams began the San Francisco-based art magazine as a much-needed contrast to the dominant discourse of the New York art scene, which was brimming with condescension towards more representational forms of art.
Since then, Juxtapoz has become an internationally-recognized platform for art that exists outside of the norm. The group exhibition at Copro Gallery is chock full of artists unconcerned with following larger trends, which is why putting them all together can be an overwhelming experience, but given Juxtapoz's impact on their careers and vice-versa, the spirit of the show is what brings it all together.
The artists may not share too much in the way of aesthetics in the most traditional sense, but knowing that they have all graced the pages of the influential mag at one time or another connects the roster in a much more profound way.
Artists participating include everyone from founder Robert Williams to Shephard Fairey, pop surrealism power couple Marion Peck and Mark Ryden, Craig Stecyk and many, many more. For followers of the publication, a group show of this magnitude may come as no surprise, but to the art community at large, it is just one more sign that Juxtapoz is a valued voice off the beaten path, a coughing fit in the middle of a stuffy gallery. "Juxtapoz Turns 18" shows why another 18 years in existence doesn't seem like such a crazy idea.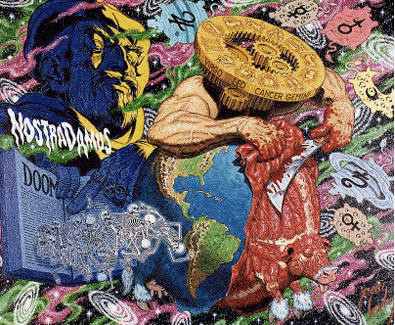 Robert Williams, "Nostradamus And The Astrological Planet Skinner" oil on canvas 30″ x 36″
– Cover of Juxtapoz #1
opens Saturday, March 24, 2012 8PM
Copro Gallery
2625 Michigan Ave #T5 Santa Monica
The show runs through April 14, 2012.