NEWS
November 19, 2008 | 2 Comments
Nikko and I worked on this DVD project together… it's been a year in the making but well worth the wait, if you've ever wanted to look over the shoulder of one of the tattoo industries greatest talents and watch and listen to how he creates true to detail realistic color portraits on skin, this DVD has a lot to offer you!
Check it out here.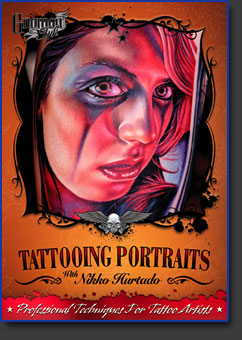 Accolades:
"Nikko has been a constant inspiration for a new generation of tattooists. This DVD is an exciting opportunity for viewers to step inside the mind of a true artist." -Joshua Carlton
"Nikko's style of color portraiture has helped create a new standard for works of realism in the medium of tattooing. He is one of the few tattooers who've been able to skillfully reproduce a photograph while still adding his own artistic style to it. His tattoos are unmistakable, even from a distance." – Nick Baxter
It's available for purchase or instand download at the Gnomon Workshop website.
Also, there is a nifty video up at Vimby from the Canvas LA show this past weekend, where you can see interviews with Nikko, Shawn Barber, Kim Saigh and Corey Miller.
🙂
L.