NEWS
October 16, 2009 | Add a Comment
ST contributing artist Nate Frizzell has a solo opening this weekend, if you are in the Los Angeles area,
this show is not to be missed!
"Lost in the Thicket"
A Solo Exhibition by Nate Frizzell October 17th – November 7th, 2009
Opening reception: Saturday, October 17th, 7pm-10pm
http://www.lebasseprojects.com/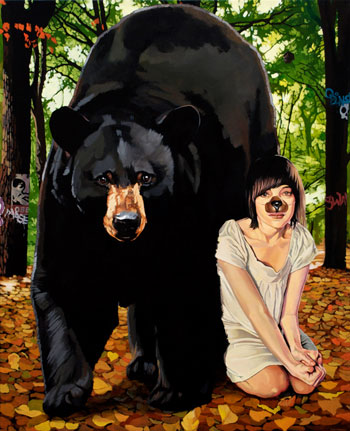 Los Angeles, CA –  LeBasse Projects warmly welcomes gallery represented artist Nate Frizzell for his new solo exhibition, Lost in the Thicket. In this much anticipated show, Frizzell introduces new themes of self discovery within his work. While Frizzell has always striven to create work that speaks about the human condition, Lost in theThicket finds the artist?s scope narrowed to the concept of discovering one?s own identity and the obscured paths that follow. As a result, each painting becomes a metaphor for choosing different paths in life, while finding oneself.
check out this brilliant teaser/interview with Nate Frizzell in preparation for this solo exhibit

Nate Frizzell "Lost in The Thicket" Teaser from Modus Films on Vimeo.
if you haven't checked out any of Nate's Sketch Theatre installments, you can see them here!
🙂
L.