NEWS
January 21, 2009 | Add a Comment
ST's friends very cool friends "down under" beinArt have just published a killer new follow up collection to their well received book Metamorphosis. The latest installment Metamorphosis 2 features work from ST favorites Travis Louie, Michael Hussar and Shawn Barber, among many other brilliant artists. Check it out here.
beinArt Publishing Press Release – January, 2009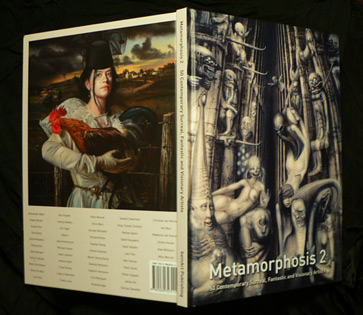 Following the success of the art book titled 'Metamorphosis' which presents the work of 50 contemporary Surreal, Fantastic & Visionary Artists (including Alex Grey, Ernst Fuchs, Kris Kuksi and Chet Zar,) beinArt Publishing has published a second book, 'Metamorphosis 2.'
'Metamorphosis 2' features another 50 Contemporary Artists. The participating artists include H.R. Giger, Jeremy Geddes, Ron English, Michael Hussar, Damien Michaels, Robt Williams, Chris Mars, Lori Earley, Tiffany Bozic, Paul Booth, Shawn Barber, David M Bowers, Heidi Taillefer, Octavio Ocampo, David Stoupakis, Travis Louie, James Zar and Greg 'Craola' Simkins.
By publishing the work of established artists alongside that of relatively unknown – though extraordinary – artists, beinArt Publishing has brought host of new artists into the public eye.
'Metamorphosis 1' and 'Metamorphosis 2' are both Limited Edition Hard Cover Art Books, 108 A4 pages, with 122 plates.
For additional information, to view images from 'Metamorphosis 1' and 'Metamorphosis 2,' or to purchase the books, visit beinArt Publishing's online shop: http://beinart.org/shop/metamorphosis.php
'Metamorphosis 2' is also available through Last Gasp distribution.
The beinArt.org online shop – http://beinart.org/shop – is also selling signed limited edition prints and art books by some of their featured artists. More exciting products will be added to the beinArt Shop in the coming weeks. Currently in the shop are prints/books by Chet Zar, David Stoupakis, David M Bowers, Naoto Hattori, Robert Venosa, Martina Hoffmann, Steven Kenny, Carrie Ann Baade, Jeremy Geddes, Jake Baddeley, Peter Gric, Tim Anderson and Maura Holden.