NEWS
September 14, 2009 | Add a Comment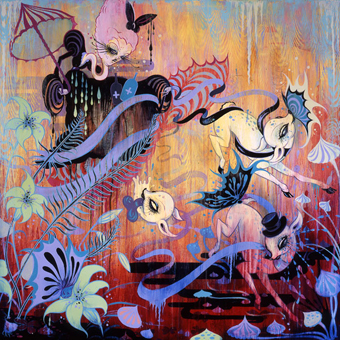 CAMILLE ROSE GARCIA
September 12 – October 10, 2009
Opening Reception Hosted By Brody Dalle: Saturday, September 12, 8-11pm
Gallery Hours: Tuesday – Saturday 12 – 6pm
Merry Karnowsky Gallery
170 S. La Brea Avenue
(in the ART 170 Building)
Los Angeles, CA 90036
(323) 933-4408
a new body of work from the lovely Camille Rose Garcia has just opened at the Merry Karnowsky Gallery in Los Angeles. I recommend a go see, the show will be up through October 10, 2009. Garcia's latest paintings on wood and paper explore the converging ecological and human catastrophes and the healing power of nature.
Using animal symbolism borrowed from Greek mythology and inspired by
intricate Islamic patterning, Garcia weaves elaborate painted tapestries
that comment on resource depletion, ecological collapse and endless
war, while reminding the viewer that beauty, hope and regeneration still
exist.
It's a beautiful exhibit. For those of you who aren't in the area I checked out this video that the Gallery created prior to the opening, and I recommend checking it out!
🙂
L.