NEWS
December 9, 2011 | Add a Comment
"Movie Freaks & Special Effects Geeks" at Rothik Art House , Sat Dec 10th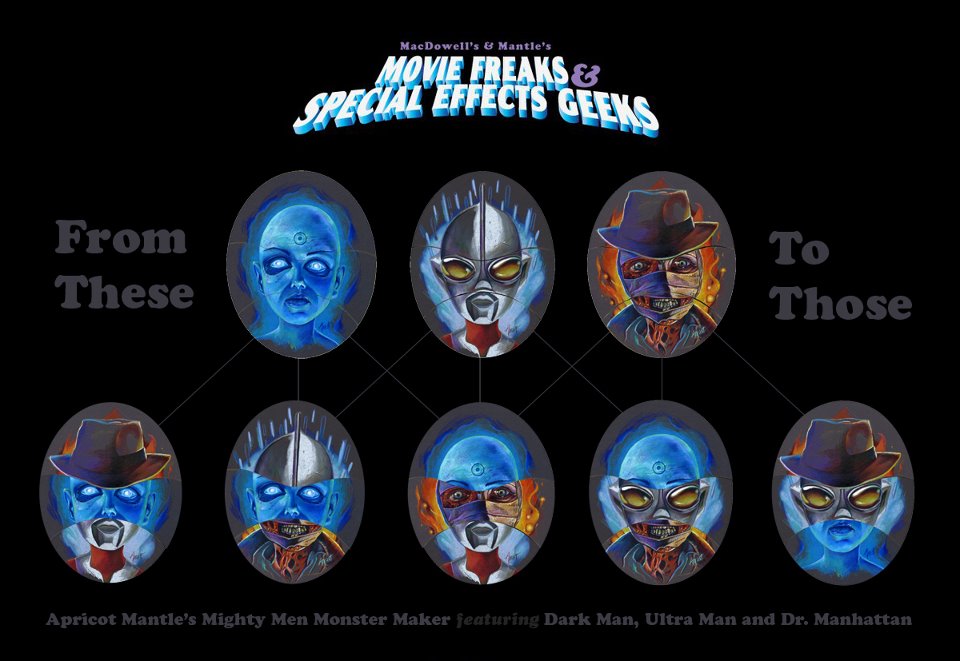 An exhibition curated by Apricot Mantle dedicated to the amazing artists who created the characters and visual effects for Hollywood's movies spanning the 80's, 90's and now.
Artwork based on some of your favorites such as: The Fifth Element, Buffy the Vampire Slayer, Ghostbusters, Dark Man, Watchmen, Critters, Army of Darkness, Hellraiser, Star Wars, Edward Scissor Hands, Star Trek, Aliens, Land of the Dead, The Blob…
Apricot Mantle's one of a kind prismacolor drawings and unique custom frames inspired by movies and the techniques used to make special effects.
http://www.apricotmantle.com/
Dave MacDowell's wild and brilliantly colorful movie freak mash-ups from your favorite horror and Sci-fi movies.
http://www.macdowellstudio.com/
Artwork from creature designer Michael Broom of the new 2011 'THE THING'.
http://michaelbroom.daportfolio.com/
http://www.imdb.com/name/nm1968256/
Movie special effects model maker Jessie Gee's amazing robots & rayguns.
http://www.jessegeearts.com/
http://www.imdb.com/name/nm1941949/
The incredible stylized art of character master Cameron Davis,
Dreamworks concept artist.
http://cdavisart.com/
Bill McEvoy's colorful and awesomely imaginative works!
http://1311.deviantart.com/
Gregory P Rodriguez's pop, fun and surreal stylized character paintings.
http://www.gregoryprodriguez.com/
Chris Hoffman's movie poster madness!
http://choffman36.deviantart.com/
DJ Trek Lewis
Glenn Arthur's Dr. Sketchy's will also be there!
more info here