Interviews
October 2, 2009
When did you know you wanted to be an artist?
Well I never really knew that I wanted to be an artist. It was more like something inside of me compelled me to pick up a pencil and draw things, lots of things. I never actually thought about being an ARTIST like someone who says they want to be a Doctor or something. I just liked to draw because it was fun and in turn was picked by the pencil to be an artist. Does that make sense?
Why color pencils?
It started back in High school. I took an advanced art class and one of the first assignments was to draw something with these magic little tools called Prisma Color Pencils. I almost immediately fell in love with the thick creamy waxy build up of colors you could get with these little buggers. Then the love turned into obsession when I was in my 2nd year of art school Illustration class and I had to draw some portraits with them. It was that class and my instructor John Macdonald that really taught me how to work with the tool to make it look almost like an oil painting.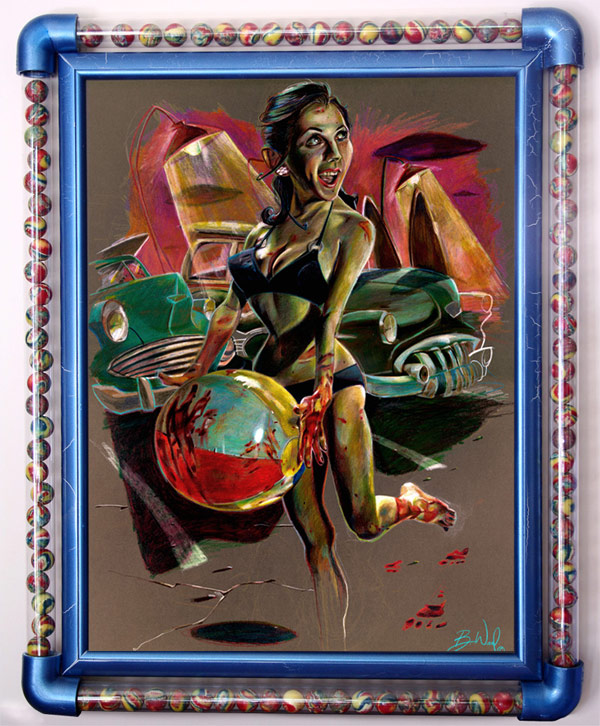 What kind of training have you had in art?
Right after High school I went to a Fine Art school in Grand Rapids, Michigan called Kendall College of Art and Design for 5 years and got a BFA in Illustration. I really was lucky to have some amazing instructors for life drawing and Illustration techniques. I learned how to oil paint, draw and do sculpture stuff. I also really liked to do graphic design. I got a job right after college drawing illustrations for coffee and tea packaging as well as designing the graphics for the packages and packages themselves.
When do you remember feeling most inspired to create?
I would have to say right after an ultimate low in my life a few years back. My apartment along with a bunch of my work burned down and I just got out of a horrible relationship. I was feeling pretty crappy to say the least. Then I met the love of my life at school. She really turned everything around for me. She, being an artist herself really got me inspired to start creating artwork again and re-build my body of work again. She soon became my life model for a new body of work that would keep on inspiring to this day.
Are there any mediums you haven't worked in that you see yourself exploring?
I haven't really worked digitally in Photoshop. I have always wanted to explore the digital artwork realm with this program. I have used it in the past as a graphic design tool, but never as an actual painting tool. After moving to Hollywood and seeing amazing concept art everyday created with Photoshop it has inspired me to give that a try.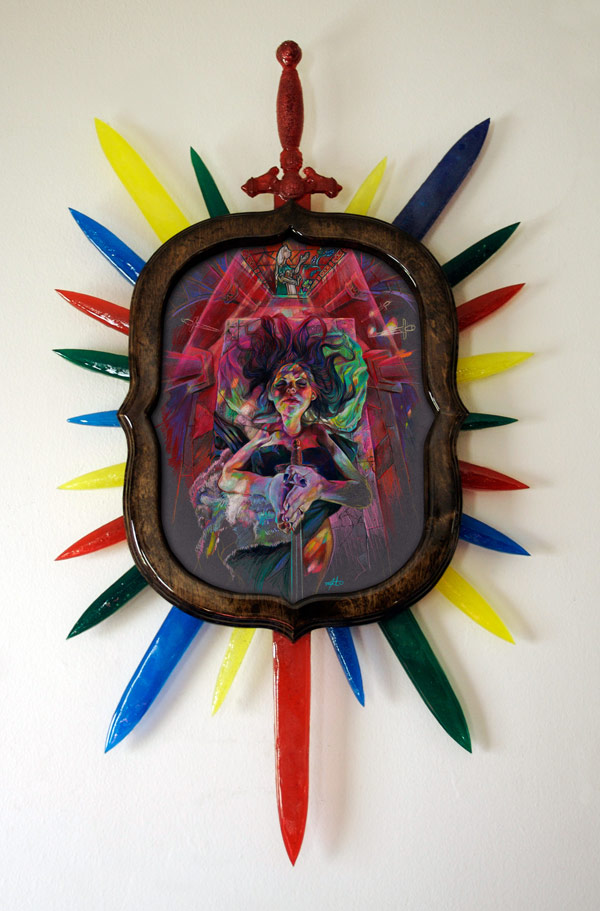 How long does it take you to complete a piece?
Anywhere from 1 week to a month. Depending on the size of the piece and the scope of the fabrication process of the picture frame I create to go with it.
Although your art career is still young, are there any hard lessons you've already learned?
The hardest lesson I've learned as a young artist just starting out on this adventure that I should never over-think my art. If I over-think things when I do a drawing that drawing will quickly turn into crap! For myself I just need to let loose and have fun, try to clear my head of all of the "what everybody else will think" nonsense and just let it come out. The best thing for me about drawing is doing what I love most, and I never want to be too critical because in the end it is just a drawing and I can make more!
You create your own frames, why did you take this on and what is that process like for you?
Ah yes, the Frame thing. I took this on because I was compelled to. You see, back in art school illustration classes they taught us to take our board or canvas and use masking tape to make a nice, neat little edge on all sides of the painting/drawing so that when you went to town on the piece no little drips or smudges would extend the barrier created by the tape. That way when you lift the tape you get a nice perfect straight edge along all sides of the painting.I DISLIKED THIS PRACTICE VERY MUCH! I always felt like this was some magic barrier that enclosed all of the creative juice of the painting from spilling out into the world. I always wanted my drawings or paintings to break free of their confined edges and go into the beyond.
I also feel exactly the same way about picture frames. I never really cared much for taking a painting or a drawing that may convey so much action and emotion and then confining it to a life behind a perfect rectangular steel or wood trap. That kind of frame usually doesn't even have anything to do with the piece. It may look nice, but not for my drawings! I wanted to give them more. Carrying the same thought that went into the drawing and letting it overflow into a themed frame! Even though my frames still confine the piece, they act as an extension of the ideas or story of the piece. That way when the viewer sees it hanging up in the gallery their subconscious mind will tell them that there is something different about this Apricot Mantle piece.
What artists do you admire, and why?
Dave MacDowell, He is crazy (in a great way) and passionate about his art. I have had the pleasure of meeting him and he and I think have a lot in common. I totally admire Glenn Barr, he has been a huge inspiration for me since my early college days. His amazing style and color pallet are enough to capture me. Todd Schorr for his amazing patience to start and finish such monumental masterpieces. Meats Meier, because he watches my back when we ride our motorcycles through the mountains, and his awesome natural gift to make such awe inspiring twisted and tangled abstract yet not abstract creations of beauty.
To explore more from Apricot Mantle, check out the artists website here
[nggallery id=37]
9 Comments
Leave a Comment