Interviews
May 26, 2012
A TOUR OF AIMEE KUESTER'S STUDIO, on 5.21.2012
If you ask Aimée Kuester why she chose an artistic path she will tell you it's …. 'Cause my parents handed down the artist gene, I try to carry the torch on'
This is the story of what you'll find in her creative space that sits high above Los Angeles and nestles into the hill side of Mount Washington. An intimate look into the place where wishes, rainbows and inspiration happen.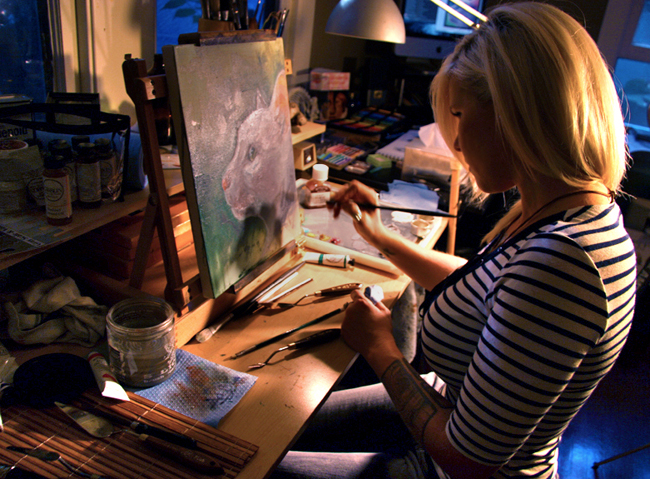 Story and Photos by Lily Feliciano, narration by Aimée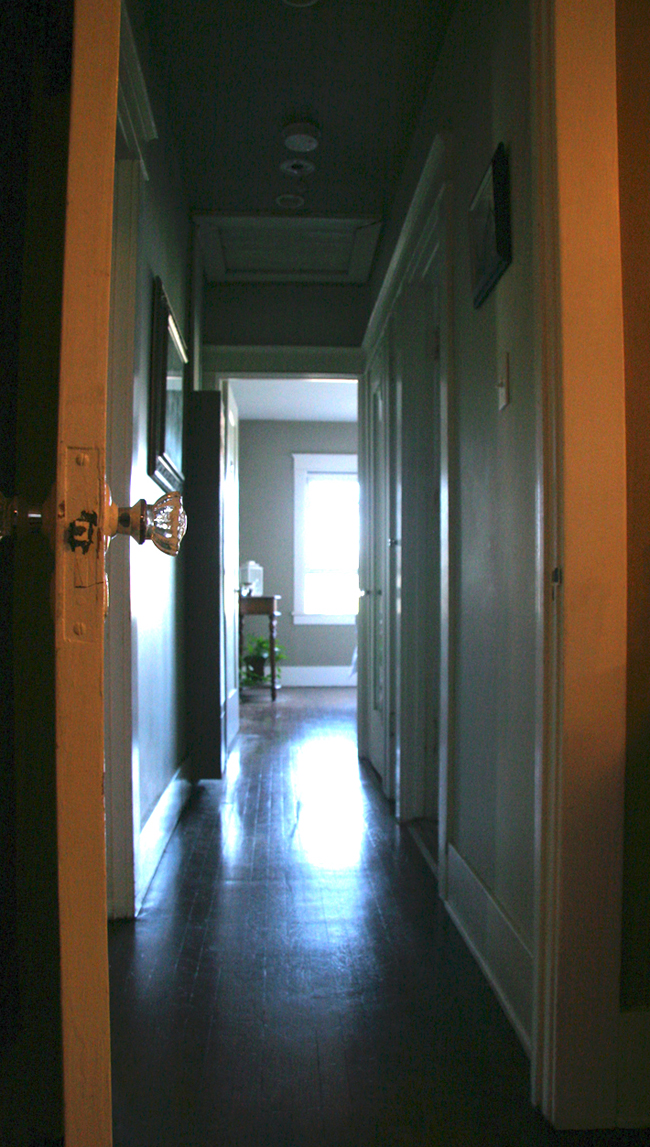 The tour begins here ….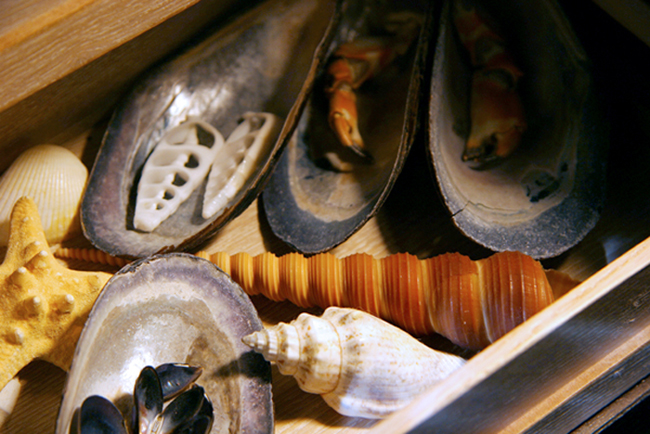 A few shells I've found at assorted beaches. Some from the first time I set foot on the California coast, which was ironically my first day living here. The twisty shell is the closest thing I've found to a unicorn horn.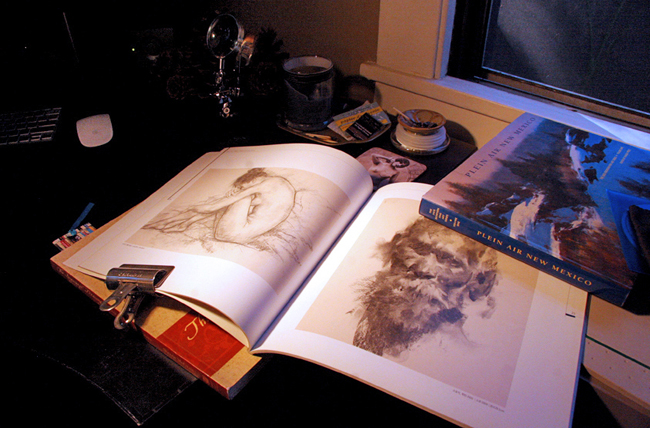 A few inspirational books my father gave me, Robert Kuester in New Mexico (he is a very gifted painter and I can only hope to be as knowledgeable as him one day.. please go take a look at his work!) The open book is by an artist named Piao Xue Cheng, his charcoal shading is so sensitive and yet his line so confident, I'm very drawn to work like this.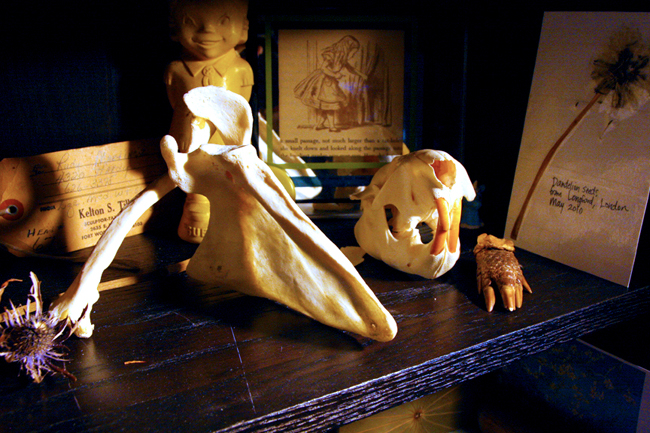 Human Clavicle and Scapula, female. Two of my favorite bones in the body… but then again, they all are. If I could get scanned and my entire skeleton reproduced through laser technology, I would do it today.. SO curious what all the divots and contours feel like to the touch!! Too bad I don't have the determination to be extremely anorexic.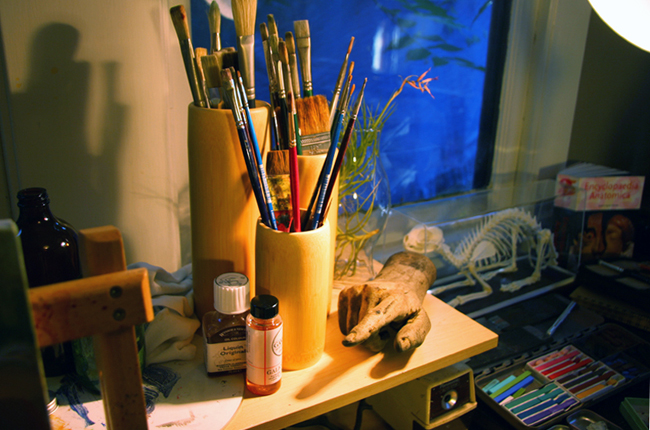 I'm naturally attracted to detail brushes and angled ones create my best effects, including the thinnest strokes. I have just one extra long filbert #9, and it's a lot of fun too for laying in grounds or covering large areas with nice textures. I'm happy with a small brush collection, I find I only use my favorites anyway.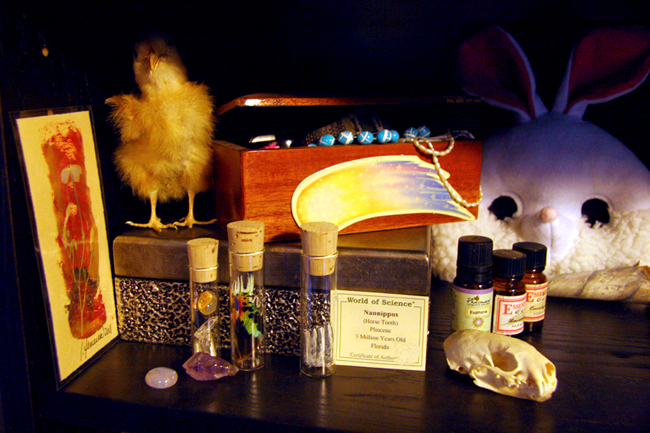 Inside that silver box are iron meteorites that fell in Nantan China in 1516, from one of the rare witnessed meteorite showers in the world. "During summertime in May of Jiajing 11th year, stars fell from the northwest direction, five to six fold long, waving like snakes and dragons. They were as bright as lighting and disappeared in seconds".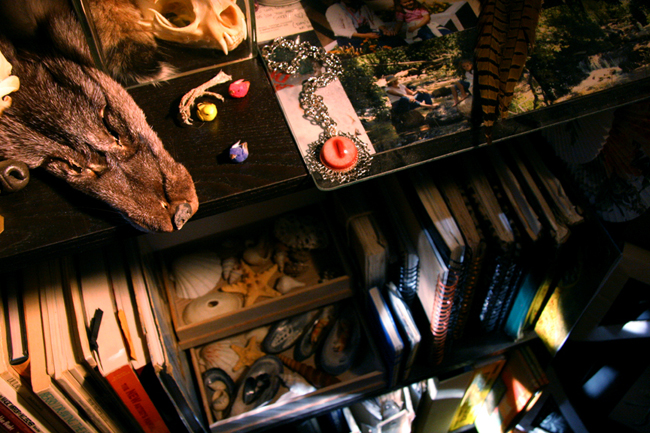 Art books on the left, youth journals/sketches on the right. I've always tried to keep a good balance of input & output.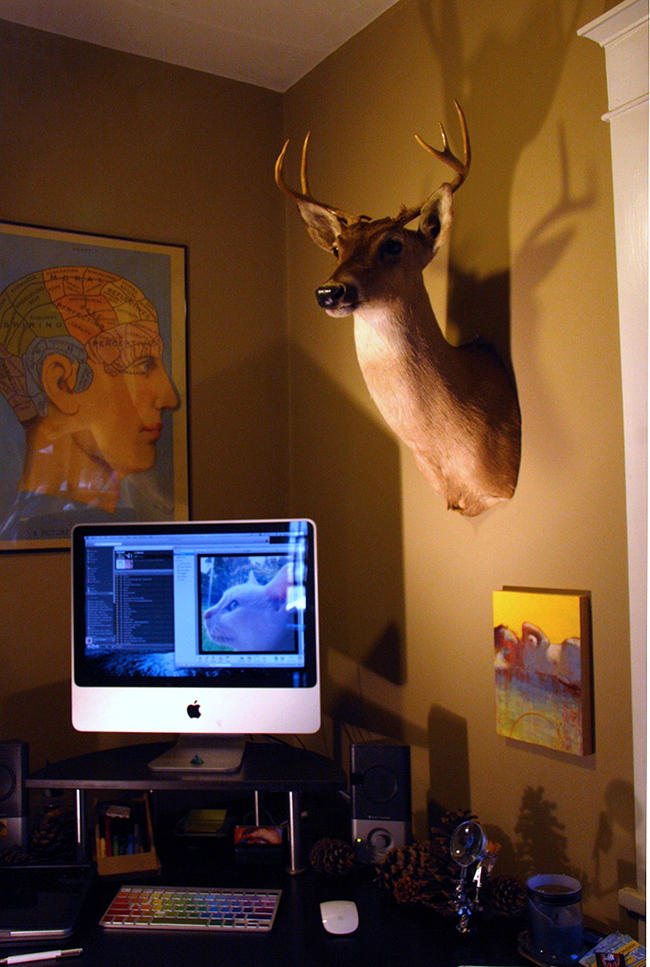 The vintage poster's caption reads ' A picture of good health' and has very old ideals in society stamped on inaccurate parts of the brain~ I love things like this. My sweet tiny 3 point whitetail just has something special about him and is another inspiration. One of my most talented mentors from the ABQ Harwood Art Center who now works out of Philadephia, Martin Campos did that lovely nude painting.. he's always on fire for art and his work continues to blow my mind. Look him up too!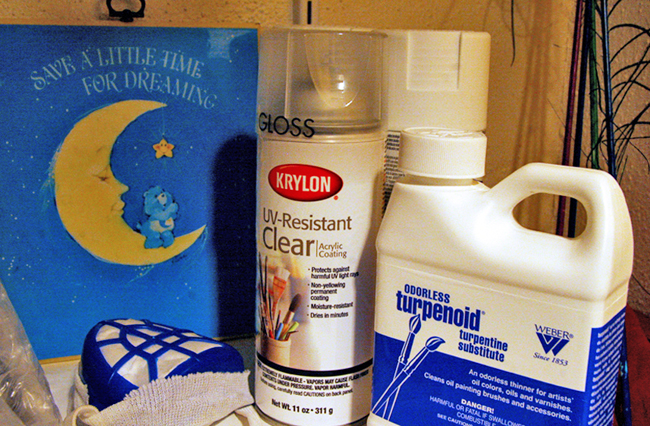 supply closet: Carebears and chemicals.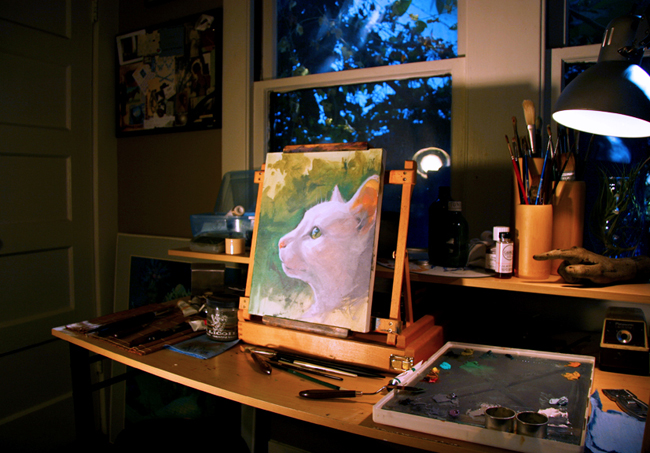 I like to sit when I paint, and have everything I need in front of me rather than on low side tables.
This table easel is portable for on the go, and still expands for huge canvases too. Easels are so personal to artists, depending on which mediums you use and what your childhood setup was. I may spring for a bad boy H-frame setup one day for fun, but really I enjoy this at the moment. I can't recommend enough to face towards a window with greenery that blows around in the wind!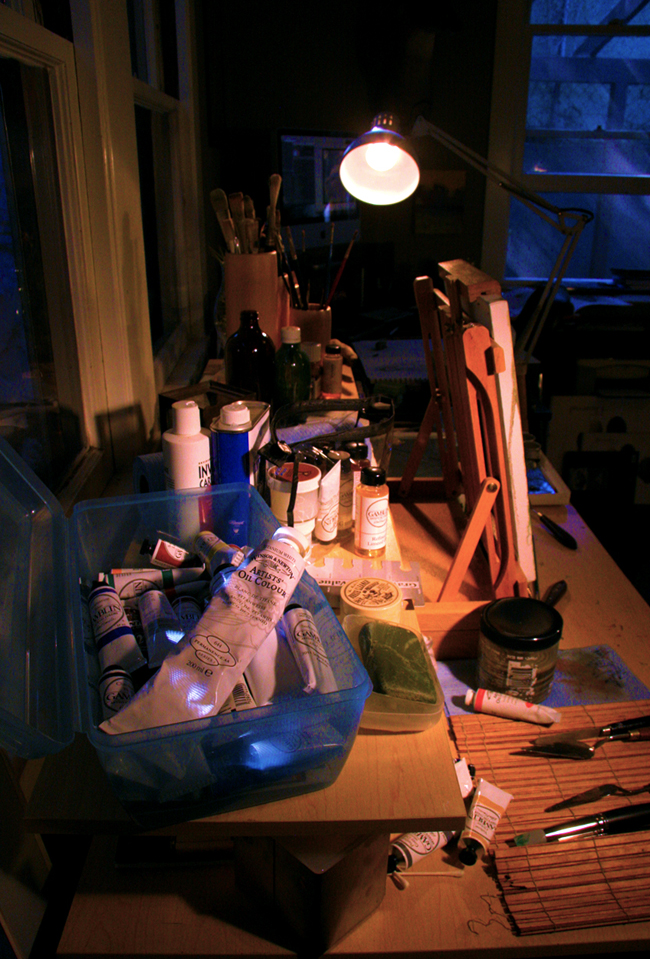 In my old age, I'm finally squeezing out generous piles of paint on my palette and gluttonously loading my brush…. I've really been missing out up till now.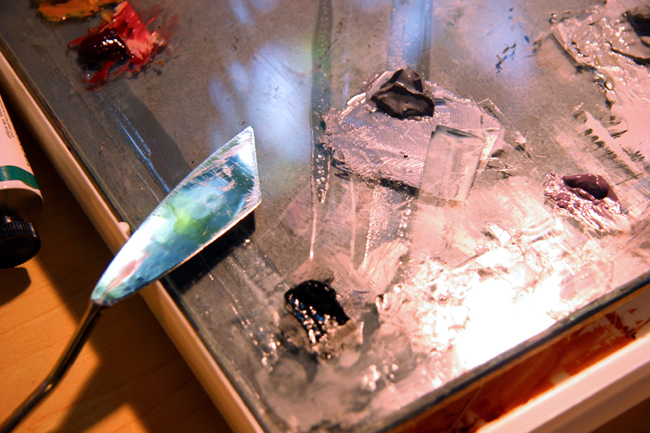 My home made palette, tempered glass glued to halftone grey masonite (to see all the values I mix correctly) and one of my favorite painting knives.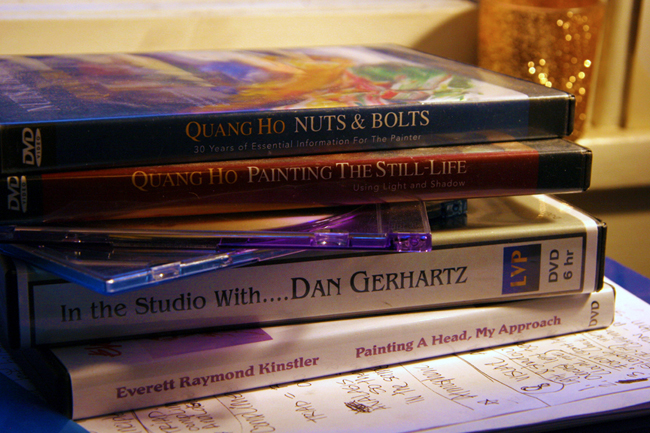 It's really important to always question & challenge yourself as an artist. The open minded artist that keeps learning throughout their career has my deepest respect and their work is always a reflection of that freshness. A few of the painting demos I'm soaking in right now.. my scribbled notes underneath. Quang Ho has proved to be one of my heros, as his approach is rich with theory, and the psychology of really seeing.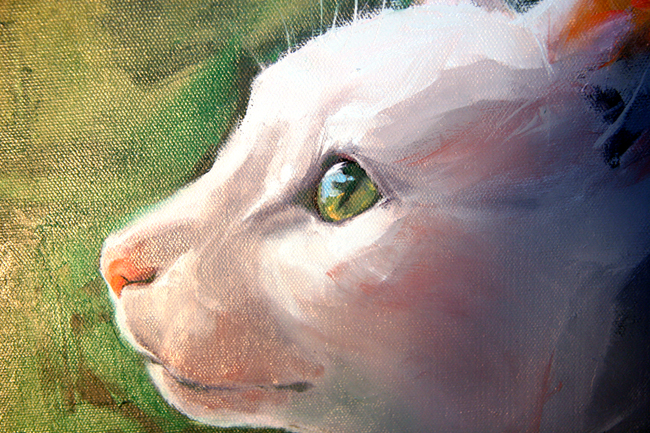 It's funny the things that randomly inspire me. Been really into cats lately… borderline crazy cat lady almost.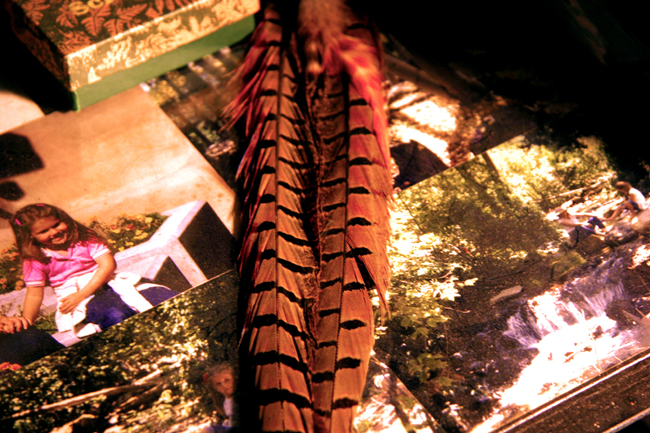 I keep some photos under glass of my childhood. I think it's important to be grateful for youth experiences, and to always let that pure curiosity lead.. like children do.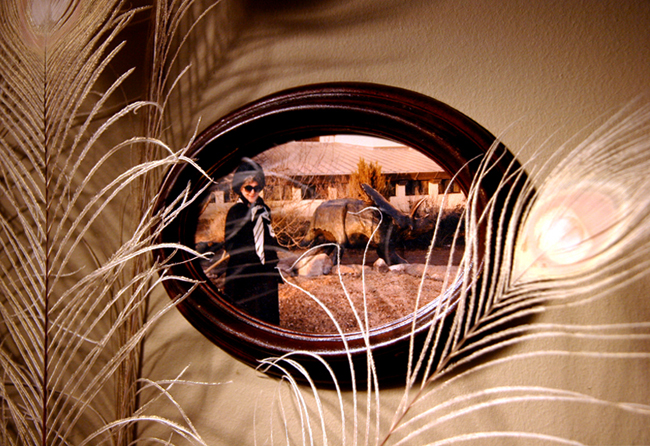 My Grandmother. What a magical influence on me she had.. her name was Adelaide. She came from Germany to the US as a child, grew up very poor and then made a new life for herself as a teacher with eight children and never a misplaced hair on her head. She was so humble and beautiful, like a quiet powerhouse. Full of wonderment for the world.. a storyteller with poise and grace at all times.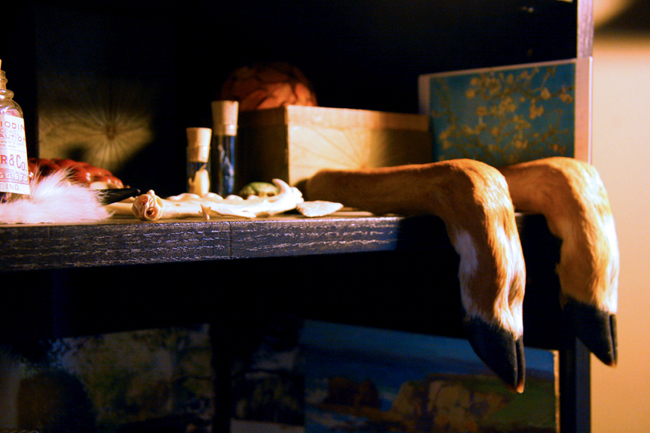 I suppose it goes hand in hand with my detail oriented personality, my art being on the smaller side, being nearsighted, and loving macro photography .. I also like my taxidermy in pieces and parts.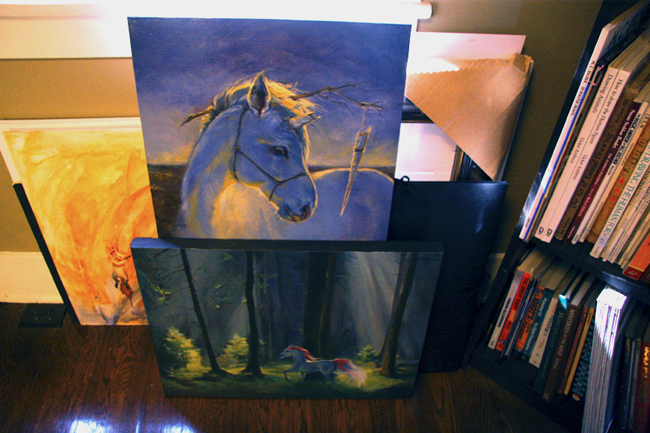 I somehow keep painting animals unintentionally! I love the human form equally but old habits die hard.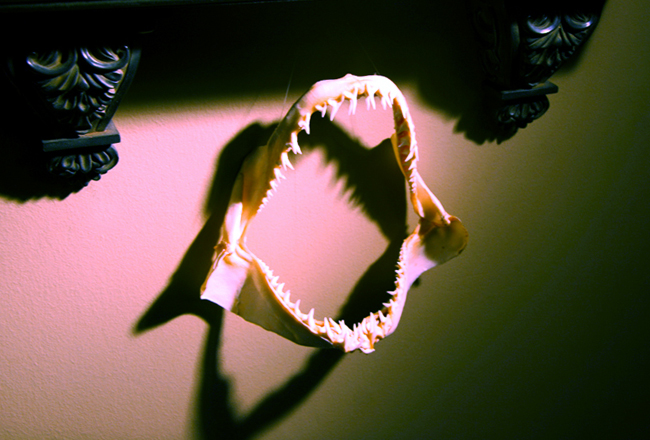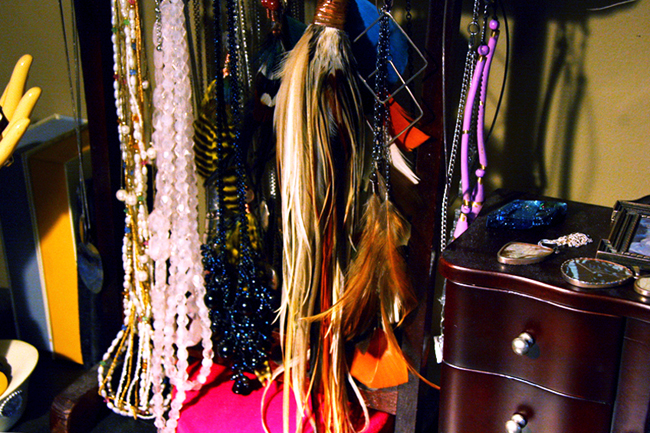 A girl can never have too much jewelry.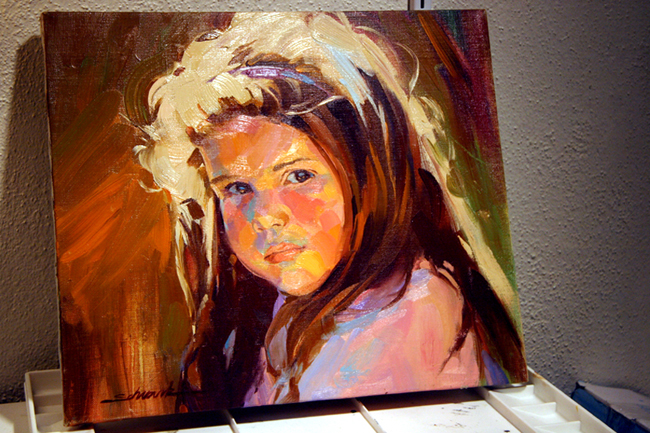 My mom took a photo of me about to go roller skating down the street with the sun in my hair, and was so inspired by it that she painted this. Her bold color choices and thick meaningful brushstrokes were her signature, and to this day I still don't grasp how she did it.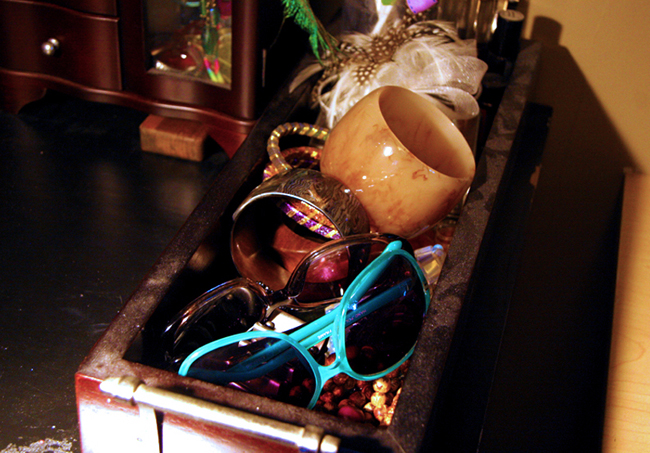 I love that bracelet, it's handmade & formed from 100% hardened tree sap!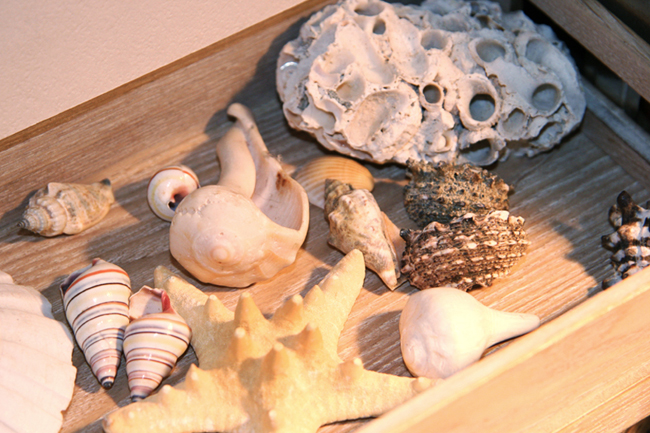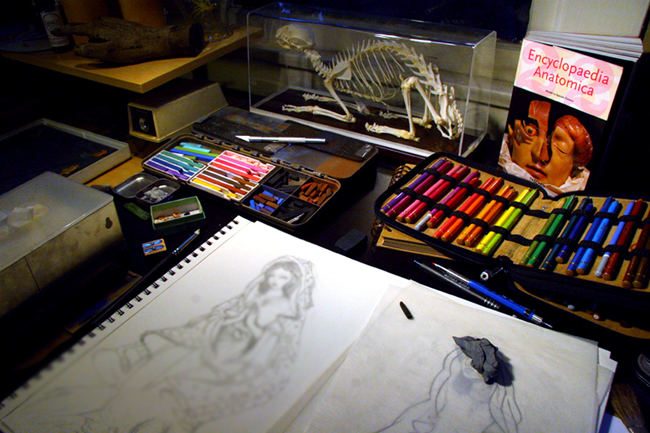 This is my charcoal area.. I like to look at reference on my computer to the right so I can adjust the zoom and switch between color and black and white for values.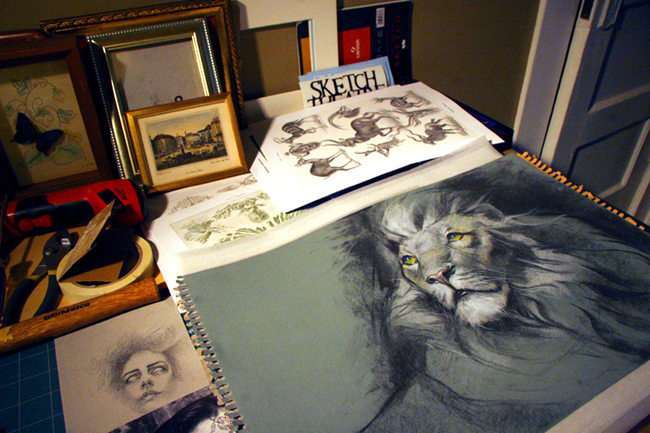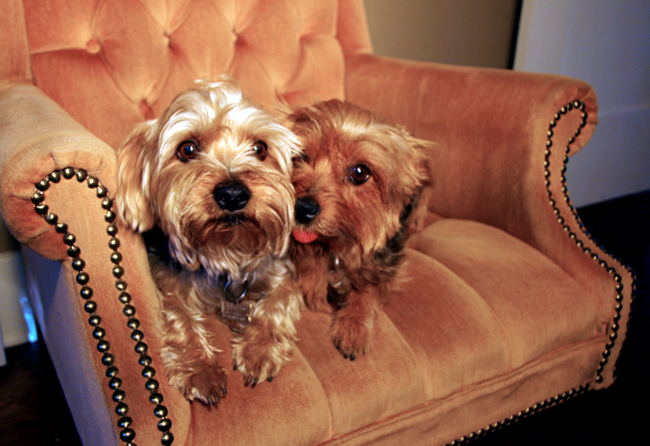 These are the McScrufferson brothers from different mothers. I love these turds way too much.
Some of my favorite supplies to work with are:
colour shaper chisels,
prismacolor kneaded erasers,
factis black erasers,
Prismacolor nupastel sticks,
conté pastel pencils,
grumbacher & rembrandt soft pastels
general's black charcoal pencils in 2B, 4B, and 6B
white charcoal pencil 558
derwent chinese white pencil
fine grain sandpaper
Cachet Earthbound recycled sketch book
Strathmore Charcoal (assorted tints) sketch pads
canson pastel paper
strathmore bristol smooth
Faber-Castell PITT indian ink brush pens
winsor and newton artist's oil colour
gamblin artist's oil colors
winsor and newton liquin original
gamblin Galkyd lite & refined linseed oil
home made tempered glass palette, halftone grey
odorless turpenoid turpentine (blue)
gessoed canvas panels assorted sizes
the master's brush cleaner and preserver
assorted brands/sizes/shapes of brushes and painting knives
gamblin Gamar picture varnish
"Love is the simplest gift. Come what may, it will radiate always for those in the path of my indestructible laser beam love"
– Aimée, xxoooxoxo
You can see Aimée here on ST 
Check out here website Aimée Kuester Fine Art for current news
5 Comments
Leave a Comment