NEWS
May 1, 2009 | 1 Comment
There are a lot of really great art shows coming up the next couple of weeks in Los Angeles! Some include the work of Sketch Theatre's finest such as Chet Zar, Steven Daily, Gary Baseman and more … please support these artists go out, have some fun and check out these shows, here is the round up!
Saturday, May 2, 2009
Gary Baseman "La Noche de la Fusion"
Opening Reception 6:30pm-10pm
Corey Helford Gallery, 8522 Washington Blvd, Culver City, CA 90232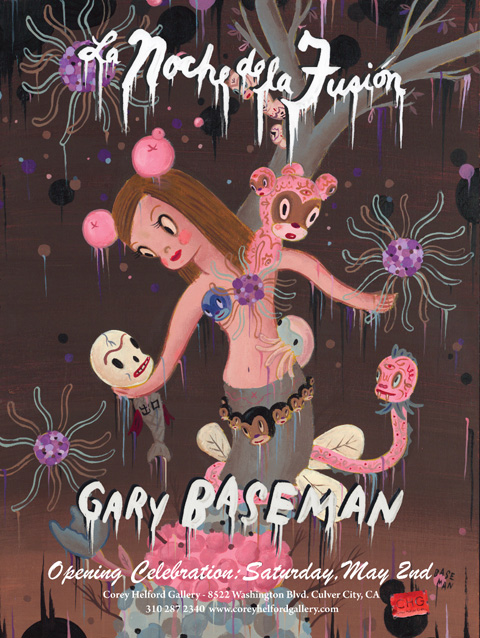 The celebration is the manifestation of Baseman's desire to create a holiday celebrating the beauty of the bittersweetness of life!
Featuring:
+ Music by DJs House Sound of LA
+ Fire performers
+ Brazilian samba dancers and drummers
+ Baseman characters come to life and play
+ Carnival games
+ Jugglers
+ Video projection of Toby's travels unites the world
+ Sculptor Delong Wei molds Baseman's characters
+ Rony's Photobooth provides photo keepsakes
+ A "Metamorphosis" ritual finale to burn away fears and insecurities
+ Guests are encouraged to come dressed as their True Self. . .in whatever form that may be!
click here for more info
Saturday, May 2, 2009
GAG ME WITH A TOON 2: HARDER!  FASTER!  RADDER!
Contemporary Confabulations of Childhood Cartoons
Curated by Steven Daily!
MELT GALLERY AT MELTDOWN
7522 SUNSET BLVD, L.A., CA, 90046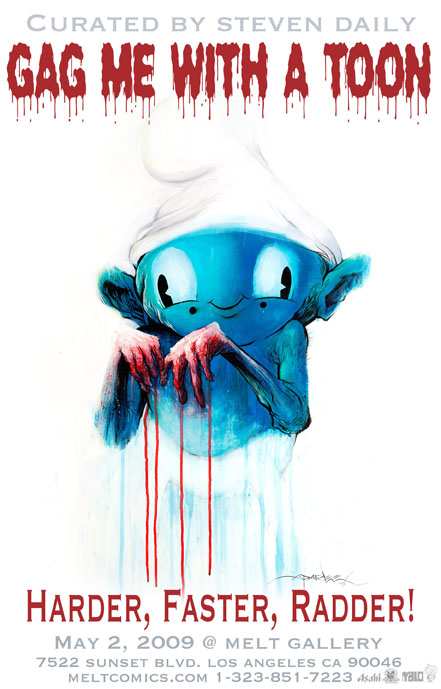 Featuring new work from the minds of…
ADAM HATHORN – ALEX PARDEE – BARSOM – BRENT NOLASCO – BOB DOB – CHRIS DEVIOUS GLIEBE – CHRIS PRYNOSKI -CRAIG EDMUNDS- DAVID FINCH – DANIEL BIGELOW – DANIEL GALVEZ – DANNI SHINYA LOU – DONNY MILLER – DAN QUINTANA – ERIK ALOS – GEAR BOXXX – GIL KUNO – GINO GESUALE – GRANGER – GUNNER – GUSTAVO ALBERTO GARCIA VACA – JEFF MC MILLAN – JEFFERY PAGE – JIM MAHFOOD – JON DRAGONETTE – JOE HANH – JON SCHNEPP – JONATHAN WAYSHAK – JUSTIN BLOOMER – KEVIN LLEWELLYN – LES SCHETTKOE – LOLA – MAC N. ZIE – MATT TAYLOR – MAXX 242 – MIKE KELLEY – EL MAZ – NATHAN CABRERA – OVERTON LLOYD – ROMAN DIRGE – STEVEN DAILY – STEVE GIBB – MARCO ANTONIO RACHED   – TARA MCPHERESON – THE CHUNG – TRAVIS LOUIE – TOMI MONSTRE – VAM POTNA
click here for more info
Saturday, May 2, 2009
Canceptual [v.3] @ Crewest
Opening reception Sat, May 2 6:00pm – 9:00pm
Crewest
110 Winston St.
Los Angeles, CA 90013
ph | 213-627-827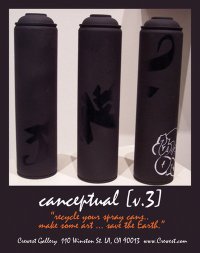 Featured in this exhibit are works by:
3 Sheets, ACME, Alonys Art, Anthony Aguirre, Apricot Mantle, Art Martinez, Astek, Auks, Bill Gallagher, BRANDED, Brian (Negro Picasso) Ross, buna, c3po, Dan Ruhrmanty, DANIEL BARAJAS, Dash2000Fidel, David MacDowell, DCYPHER, Downer, DRAST CBS TBG, Dres13, Dyroza, Dytch66, Earn One, Eduardo73, Eriberto Oriol, Ernesto Vazquez, FLASH ABC, GAPE, Ghost One (UTI), groty dct, Gwen Mercado-Reyes, HASTE, Huit (COI), inept, J.Edwards, Jarrod Barton (boost), Jason Jacenko, Jessica Ward, Jesus Gomez, Jonathan Bueno, Jose M. Loza, Jose Reyes, Just Elias, Kaman Chow, Kelly Thompson, Lalo Alcarez, Le' Nik, Lucho, MARKA27, Maya Villa, Miki Lorena, Miwa "miwaLyric" Kayama, Modern Day Monster, New Colony, Nicole Kaspereen, Noah Ptolemy, Rebornz Art/ Randy De Leon, Rel.One, REVEL, ROME, Ruthie Pie, Shark Toof, Sherm, Skyler Gonzalez, SMEAR, Sophia Gasparian, Stacy White, TEEL ONE, Thomas J. Schaeffer (the Messenger), Travis Moore, Vanessa Hampton, Vyal, Yuki and many more
show runs thru May 31st
click here for more info
Saturday, May 2nd, 2009
Bettie Page: Heaven Bound
World of Wonder Gallery 6650 Hollywood Blvd 8-midnight
Cost of admission is $5.
Bettie's actual high heels will be on display and there will be a spanking machine aka weapon of ass destruction among all the exquisite art. Mark Mori will also be filming for the upcoming Bettie documentary www.BettiePageMovie.com and there will be many special guests including Dita (attending not performing)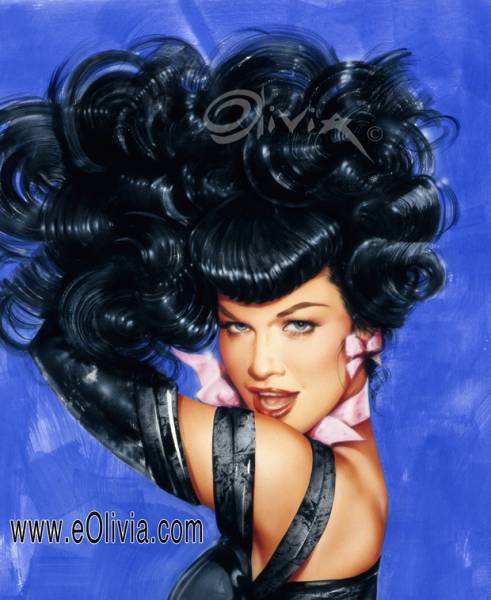 Curated by Lenora Claire
Featuring the art of:
Olivia
Bunny Yeager
Mathu Andersen
Claudette Barjoud
Colin Christian
Spencer Davis
Steve Diet Goedde
Ed Mironiuk
Marla Rutherford
Jason Sallin
Jim Silke
Austin Young
click here for more info
Friday, May 8th, 2009
The Art of Marc Davis
10:00 AM – 5:00 PM
Forest Lawn Glendale – Museum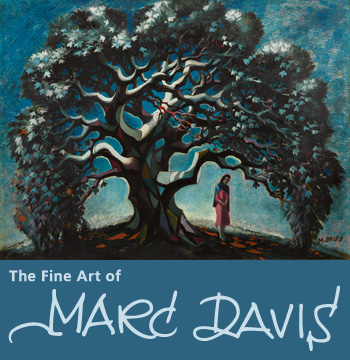 Beginning May 8, 2007, the Forest Lawn Museum in Glendale will present "The Art of Marc Davis."  The exhibit will feature drawings and paintings by distinguished artist and original Disney animator Marc Davis, one of the "Nine Old Men;" the core team of pioneering animators that Walt Disney assembled in the 1930s to advance the art of motion picture animation. For more information, call 1-800-204-3131.
click here for more info
Saturday, May 16th, 2009
"When Worlds Collide" James and Chet Zar
Intergenerational exhibit of light and dark works by James and Chet Zar
Opening Reception from 7PM to 11PM.
Preview!
[Gallery=34]
L'Imagerie Gallery
10555 Victory Boulevard
North Hollywood, CA  91606
818 762-8488
www.limageriegallery.com
www.myspace.com/limageriegallery
Hours: Tuesday-Saturday – 11:30 AM -6:00 PM
click here for more info