NEWS
November 13, 2008 | Add a Comment
First off…
I apologize to those of you not residing in Los Angeles for having a focus on mostly LA art shows. I live here, and most of the events I feel are worth noting get brought to my attention because they're local … so….. I could use a team of correspondents in other places (any volunteers?) I could use updates in OC, SF, NYC, Seattle, Portland, Austin, Chicago, and international as well!
Until then, here is a weekend round up of events to come see!
Thursday Nov 13th (12-9PM)
Downtown LA Art Walk
http://www.downtownartwalk.com/
Friday Nov 14th (7-12PM)
Bronx Zoo at Ghetto Gloss / Silverlake
Conceived as a Saturday afternoon cocktail party with art activities, Ghettogloss gallery launched its Bronx Zoo summer series in June at the delightfully dancy downtown La Cita bar. But with each successive Saturday, the hot spot's back patio has been steadily transformed into a bona fide art class, as aspiring students grab sketch pads and draw models sporting lingerie and ape masks.  Shana Nys Dambrot curates a show at Ghettogloss on November 14th, composed of the finest zoological artworks.
Join us for a cocktail and banana reception on Nov 14, 2008 from 7P-Midnight.
Show runs thru 12-1-08 at Ghettogloss.
Saturday Nov 15th (8-11PM)
Canvas LA's 2nd Annual Group Show "Visionaries"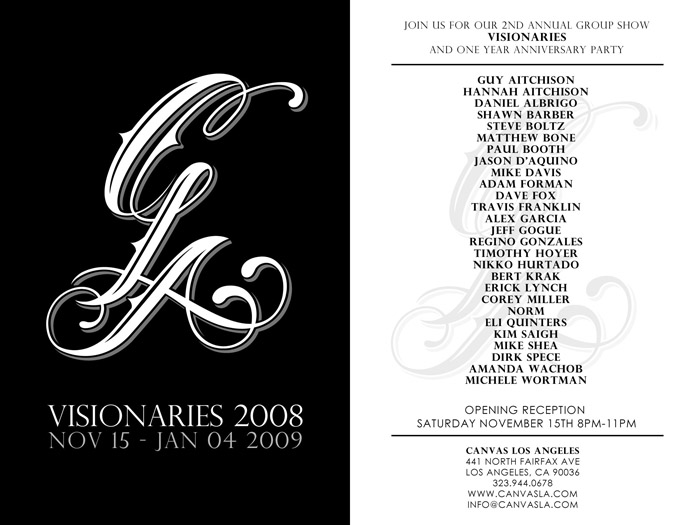 "Visionaries" featuring the personal artwork of amazing tattoo artists, featured in this exhibition will be 3 you can find right here on Sketch Theater, Nikko Hurtado, Shawn Barber and Corey Miller!
Saturday Nov 15th
Corey Helford Gallery
presents CLOWNS! The classic American clown painting is re-interpreted by the new contemporary fine art movement in this group show featuring Gary Baseman, Shag, Tokidoki, Colin Christian, Dave Kinsey, Chris Anthony, Natalia Fabia, Buff Monster, Joe Ledbetter, Audrey Kawasaki and many more.
For this special exhibition, Corey Helford Gallery also partnered with London's StolenSpace Gallery to feature works by some of England's most sought-after new artists: D*Face, Chloe Early, Word To Mother, and Will Barras.
Open to the public, the reception for CLOWNS! takes place on Saturday, November 15, and the show will be on view until November 29, 2008. With so many amazing exhibiing artist in one space, this is one show you won't want to miss!
and last but not least, for those about to rock …
🙂
L.